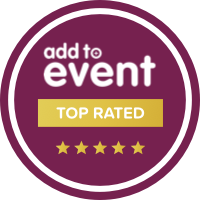 LATEST PRODUCT NEWS
Price Increase from March 2023
With the general increase in prices for the items we offer for hire, as well as higher fuel prices which affect our delivery costs, we have reluctantly increased our hire prices with immediate effect (from 23 March 2023). With regard to our furniture hire prices, in many cases this is the first price rise we have implemented in over 10 years and reflects an almost doubling in replacement costs for tables, in particular, over the past few years. Our linen prices have also risen as a result of significantly higher laundry costs, again reflecting the steep increase in energy costs at our supplier.


PARTY TENTS NOW AVAILABLE TO HIRE
We are very excited to announce that we can now offer top quality, professional grade pop up garden party tents to provide protection or shade for your event whatever the weather. We can offer both an 8m x 4m gazebo with a white canopy & sidewalls and a 4m x 4m gazebo with either a white or black canopy & sidewalls.
Our professional quality gazebos have a 50mm hexagonal aluminium frame, the strongest available on the European market and, properly weighted and guyed, we will be happy to deploy these in forecast winds of up to 30mph.
PRICES (ALL PRICES INCLUDE PITCHING & TAKEDOWN BY OUR HIGHLY TRAINED TEAM):

8M X 4M GAZEBO (WHITE ONLY) -

£295 including sidewalls/£250 without sidewalls


4M X 4M GAZEBO (BLACK OR WHITE) - £150 without sidewalls/£175 with sidewalls

AVAILABLE FOR HIRE FROM MAY TO SEPTEMBER ONLY
PICTURES COMING SOON.
WE HOPE TO HAVE A WIDER RANGE OF OUTDOOR OPTIONS SOON AND WILL BRING YOU DETAILS AS SOON AS WE CAN CONFIRM THEM
We are a family run company with a strong commitment to providing you with the best possible service and we look forward to helping you with your event hire needs soon.
OUR EVENT HIRE SERVICES
We hire chairs and tables, table linen, crockery, cutlery and glassware as well as tableware and table centres to give you all that you might need when planning an event whether it be in a wedding barn, a marquee wedding, a party in a village hall, those special chairs and tables for a hotel based event, a party for family and friends in your garden or a dinner party in your house.
Unlike many of our competitors, we do not charge VAT so the prices shown on our website and pricelist are the prices you will pay – there is NO VAT TO ADD.

Minimum order values will apply and will depend on the distance from us to your venue.

LATEST STOCK NEWS : We can now offer BLACK TABLE LINEN in various sizes to fit rectangular and round tables at the same competitive prices as our WHITE and IVORY linen. This range is great for weddings, dinner parties and can also be used on a trestle table with our table leg extenders, to make a smart bar covering (& why not hire our 4m x 4m gazebo in black to make a great looking bar?)


EXCITING NEW PRODUCTS INCLUDE OUR PROFESSIONAL QUALITY GARDEN PARTY TENT - NOW IN STOCK - GREAT FOR SHADE ON THOSE HOT SUMMER DAYS (EVER HOPEFUL!) OR FOR PROTECTION AGAINST SHOWERS WHEN THE WEATHER WON'T PLAY BALL - AVAILABLE NOW, PICTURES COMING SOON.



Read more about us